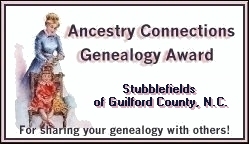 The Robert Stubblefield family history has always started with stories about Robert serving in the Confederate Army during the Civil War. One story told by Howard, Robert's Grandson, is about Robert fighting at the battle of Manassas, Virginia. Versie, Robert's granddaughter - and my mother - recalls stories about Robert being a flag bearer, carrying the regimental colors into battle.
John Stubblefield, Ross's son, remembers stories about Robert having two lead bullets removed from him after being wounded. Everyone tells about Robert and others in his unit walking back to Alamance County after the war, eating what they could find or hunt for themselves, and on handouts from sympathetic farmers as they passed by on the long walk home from Richmond. What is proven to be known is recorded in the archives of the Confederate Army, transcribed by the North Carolina State Division of Archives and History, and in the US National Archives whose records were sent to me on May 8th, 1995.

---
Private Robert Stubblefield enlisted in Yanceyville, Caswell County, North Carolina, on February 25, 1862, at the age of 24. He was enlisted by Jeremiah A. Lea as a volunteer for a period listed as "the war", meaning for the duration. Robert was a member of an infantry company known as the "Caswell Boys", Company H, 6th Regiment, North Carolina Troops.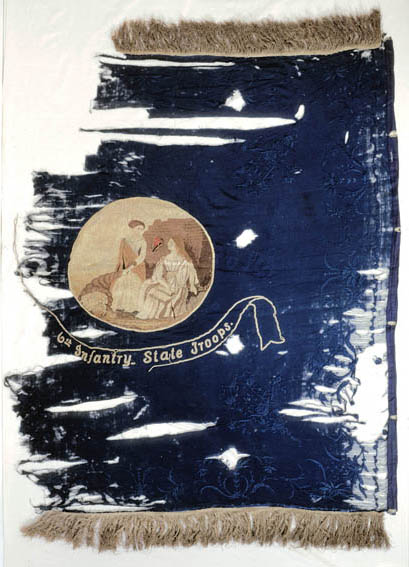 The 6th had been ordered to Company Shops, (today known as Burlington) NC, for it's camp of instruction after being formed on June 6, 1861. The 6th North Carolina Troops served as the honor guard at the funeral procession of Governor Ellis in Raleigh, and soon thereafter, fought at the first battle of Manassas.
After wintering through 1861/1862, the first replacements joined the regiment at Fredericksburg, Virginia, in March, 1862. Robert was one of those recruits. The major enlistment effort apparently took place in February, 1862, as the records indicate many of the volunteers in Company H joined as of February 25, 1862.
Robert is listed as present and accounted for on the company muster rolls from March, 1862, when the recruits joined the "Bloody Sixth" as it was to be known, through the battles of Seven Pines, Gaines Mill, also known as Cold Harbor by the Union Army, and Malvern Hill, Virginia. The March, 1862, recruits suffered from terrible bouts with the measles. Company E lost twenty out of forty three recruits to the disease soon after they reported for duty.
Robert is shown as present in Company H until the second battle of Manassas, Virginia, where he suffered a major wound. Robert was wounded in the thigh at the second battle of Manassas on August 28, 1862. The 6th North Carolina Regiment fought alongside the 4th Alabama, 2nd Mississippi, and the 11th Mississippi Regiments, in General Hood's division in what was called "Whiting's Brigade", under Col. Evander Law. They fought the New York 45th Regiment at the battle of Dogan's Orchard at Chinn ridge in the closing stages of the famous battle.
After being wounded, Robert was sent to the hospital at Lynchburg, Virginia, on August 28, 1862 with a gun shot wound in the thigh, (GSW thigh). He was listed as hospitalized in the company muster rolls from November, 1862, until he was transferred to the Richmond Hospital on May 1, 1863. "Sent Hospital, Richmond, May 1, 1863, By Order of Hoke" is the entry on the March/April Company H muster. He was sent to the Receiving and Wayside Hospital, General Hospital Number 9, Richmond, Virginia, on May 1, and admitted on May 2, 1863, by order of General Hood.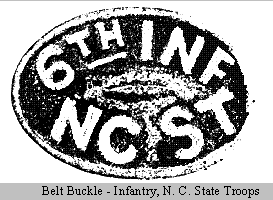 The remarks state "for wounds received at Manassas", but the details of the hospitalization are not known. He was transferred the same day, May 2, 1862, to the Chimborazo Hospital #3, Richmond.
[Note: Chimborazo was the largest hospital used by either side in the Civil War. It had four quadrants, with thirty pavillions each, over 8000 beds!].
Robert received a thirty day furlough on May 22, 1863, (by order of Gen Lee). One entry says "furloughed to N.C. for thirty days." There is a rations receipt for Robert during the 30 day furlough issued at Danville, Virginia. It is not known if his thigh wound prevented him from the disastrous engagement of the 6th North Carolina at Gettysburg on July 3, 1863, at Cemetery Hill. He apparently returned from furlough June 22, only one week before the famous battle, but he may have returned to the hospital instead of reporting to his regiment. He is listed in the company muster rolls for Sept/Oct, 1863, as "Absent - Sick, sent to hospital August 14, 1863", by order of Gen Lee, six weeks after the battle of Gettysburg.
Although there is no mention in the company muster for July, 1863, it appears that Robert may have served in the company during that time as he wasn't listed otherwise until hospitalized for the same wound again on the 14th of August. He was assigned at that time to the 3rd Division General Hospital, Camp Winder, Richmond, Virginia, where he was shown on the receipt rolls through October and November, 1863.

He returned to his Company again after the 17th of November, 1863, as the Company H muster rolls show him present or accounted for from November, 1863, until September, 1864.
In September, 1864, he was wounded a second time, this time even more seriously than the first. Robert was shot through the lower lobe of his right lung on the 19th of September, 1864, during a battle near Winchester, Virginia, under the command of General Jubal Early. Robert was captured by Union troops on the 19th, but didn't receive field surgery until six days later. He received field surgery on September 25, 1864, from Ass't Surgeon Burdett, USA Depot Field Hospital, Winchester, Virginia, for "removal of rib fragments and simple dressing". Robert was eventually transferred, after seven weeks in the field hospital, from Winchester, Virginia, on November 15, 1864, to the U.S.A. General Hospital, West's Buildings, Baltimore, Maryland, arriving there on November 16, 1864. He was transferred to the General Hospital three months later, on February 16, 1865. He was transferred to Fort McHenry later the same month.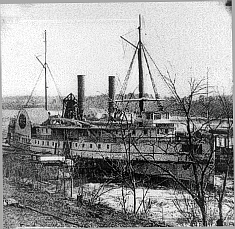 Robert was transferred from Fort McHenry to Aiken's Landing, James River, Virginia in February, 1865, for prisoner exchange. After the prisoner exchange, he was admitted again to the CSA 3rd Division Hospital in Richmond, listed as "paroled prisoner, sick".

Robert Stubblefield 's last entry in the National Archives is a payroll entry, dated March 2, 1865, in Richmond.

Of the three years and one week that he served in the Confederate Army, Robert Stubblefield spent over 18 months, or half of his enlistment, hospitalized with gun shot wounds, and the last six months as a prisoner of war. Yet he may have been fortunate. The 6th North Carolina Troops had over 2000 names on the muster roll during the course of the Civil War, however, at the day of surrender to Union Forces, only 143 men remained to answer roll call.

The records show many spellings, including Stubbefield, Stebelfield, Stubbelfields, Stublefield, Stuberfield, Stubfeld, all in Robert's file, with his birthdate, date of enlistment and unit. It is noted that Robert "signs by mark", and it is easy to understand the misspellings could not have been read for accuracy. The one misspelling that is the cruelest is the spelling Robert Studfield, Pvt, Company H, 6th NC Infantry, Volunteer, enlisted February 25, 1862, on the CSA Roll of Honor, for wounds received at the second battle of Manassas, resolution ratified 20 December 1862, General Assembly, State of North Carolina

The actual recorded facts vary little from the stories and tales remembered from 150 years ago, although several stories have never been clarified. No one in the family has come forward with any stories or history about Robert before the Civil War. Nothing of the family's history before Robert seems to be known. Versie only knows that the family was of Welsh descent. Robert's past, while perhaps not intentionally shrouded in mystery, was certainly never discussed or explained, if it was ever known at all. Apparently, as the one of the few stories told by all family members goes, Robert was born out of wedlock. It is said by the family Robert's mother was from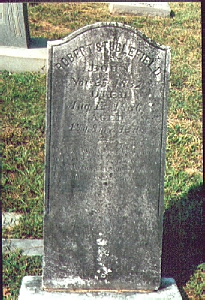 Kentucky, but where his mother was actually from is not known. Neither his mother's nor his father's names are known, yet he is not listed as an orphan in Caswell, Orange, Rockingham, or Guilford counties.
The birth records of Caswell County, North Carolina, list Robert born in 1837. His headstone in Stony Creek reads, "born 25 November 1837". He is the only Robert Stubblefield listed in Guilford, Rockingham, Orange, or Caswell Counties. [There was no Alamance County at that time]. Robert's father is unknown as the birth listing from Caswell county is an index, not a complete transcription of the birth record. The microfilm reference states "no parents listed".
The only other Stubblefields in Caswell, Guilford, Rockingham, or Orange Counties were the members of the two William Stubblefield families, listed separately in the archives section of this letter. They were, incidentally, the only other Stubblefields yet uncovered who served in the Confederate Army as enlisted infantry from North Carolina. William N, from Caswell County, three years younger than Robert, died in Richmond of typhoid fever. The other, William W, from Rockingham County, was wounded twice, shot in the face the second time, and like Robert, captured by Union forces. There are no other records of Stubblefields in the North Carolina histories. There were many Stubblefields across the river in Halifax and Pittsylvania counties, Virginia, and descendents of Wyatt Stubblefield, west in Rockingham County, at the time, but none of the families contain a match with Robert.

Most other Stubblefield families in North Carolina can be traced back to Simon Stubblefield in England in 1640, but as yet, Robert Stubblefield has not yet been linked to any Stubblefield family. The first official record of Robert Stubblefield found is just before the Civil War, in the 1860 census. The 1860 census lists Robert living on a farm in Caswell County.

Robert lived and worked on a farm owned by William Gwynn in 1860. He gave his age as 23. Robert is the last entry on page 67. He is the only Stubblefield listed on the farm. Listed next after Robert on the census form at the top of the next page is Martha Brincefield, age 32, [the 3 is crossed out and a 4 written over it], a seamstress; E. Brincefield, female, age 30, and Harvey Brincefield, age 21. What happened to Robert's family, or his relationship with the Gwynn and Brincefield families is uncertain. Versie recalls stories about Robert being bound out at a very early age, and he was probably in bondage to the Gwynn family.

The Gwynn family is listed as William, age 57, farmer, owner of the farm; D. Gwynn, wife, age 56; M. A. Gwynn, Female, age 30; Sarah Gwynn, female, age 24; and M.M. Gwynn, female, age 18. Robert is listed right after M.M. Gwynn. It is believed he lived and worked on this farm until his enlistment in the Confederate Army.

Some family members believe Robert may have been married twice. However, Only one record or bond of marriage has been found, Robert Stubblefield to Eliza Jane Barnett in 1866.

Robert and Eliza Jane

Robert Stubblefield and Eliza Jane Barnett were married on the 13th of May, 1866, by Justice of the Peace L.L. Lambeth in Alamance County, North Carolina. The marriage bond is the first record of Robert after the end of the Civil War. Robert apparently bought a farm between Altamahaw and Ossipee, in Alamance County about the same time. Altamahaw is about 12 miles north of Burlington and was once part of Caswell County or Orange County prior to the formation of Alamance County in 1849. At that time Burlington was called Company Shops.

After the Civil War, Caswell and Alamance counties were in turmoil for many years. During the reconstruction from late 1865 to the middle 1870's, the area saw many changes from the peaceful pre-Civil War era to a turbulent, and at times, violent community. An insurrection was declared by President Grant in May of 1870, and started the infamous Kirk-Holden War. Caswell and Alamance counties were the only two counties included in the Marshall Law order. By February, 1872, the state democrats wrested power away from the reconstruction Republican party and the area returned to farming and tobacco growing as the once peaceful area recovered from the tumultuous years after the war.

The next record found of Robert Stubblefield is the 1880 US census.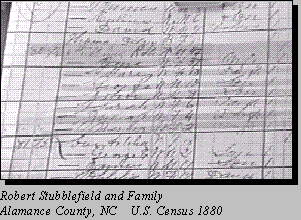 The acreage of the Robert Stubblefield farm is listed in the 1880 census as 640 acres, (May have been misread, value as $640) however, Howard and Versie believe the farm was quite a bit smaller. [Tax records have yet to be verified]. It is also doubted that Robert actually owned the farm they lived on. Robert listed his age in the 1880 census, Alamance County, as 42 years old. His wife, Eliza Jane, is listed as 37. This puts Robert's birth date at 1837, which matches his age of twenty four at the time of enlistment, the birth record in Caswell County, and the headstone at Stony Creek Presbyterian Church. Eliza Jane is a perfect match for the Eliza Jane Barnett born to George and Sarah Barnett in Alamance County.

Eliza Jane is listed in the 1850 census of Alamance County as seven years old, which matches her birth of 1843. At that time of the 1850 census, she had a brother, John, three or four years younger than she, and a sister named Julia, about six years younger. Listed in the 1860 census of Alamance County 10 years later, are her father, George; her mother, Sarah; Eliza Jane; John; Julia, and three younger brothers born after the 1850 census. They are identified only by initials.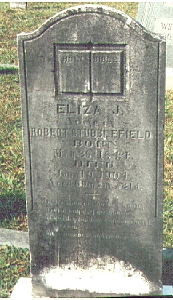 They are: G.L. Barnett, age 9; J.C. Barnett, age 3; and L. Barnett, aged 9 months. One of Eliza's brothers, which one is unknown, and her sister, Julia, are known to have lived in a house in Burlington during the early 1920's. The family was known of Irish descent, but when they immigrated to the U.S. is unknown. Howard recalls listening to stories about the Barnett's watching ocean waves on the trip to the United States, but when is not known.

The 1880 census lists Robert Stubblefield and Eliza Jane; Mary E., daughter, age 13; George L., son, age 10; John, son, age eight; Sally [Sarah], daughter, age six; Julia, daughter, age four; and Barbara, daughter, age two. He is listed as a farmer, born in North Carolina, with both parents listed as from North Carolina. One of the farms adjacent to Robert's is the farm of James and Margaret Ross.

It appears all of Robert's and Eliza Jane's children, except Sally, [Sarah], were born on the farm in Altamahaw, NC. Sarah's birth is the only one listed in Guilford County. The area the Stubblefields lived in includes both Alamance and Guilford counties, as well as Caswell county. The towns of Altamahaw and Ossipee are today in Alamance county, while the town of Osceola is actually in Guilford County. Stony Creek is in Caswell County. It is thought the Stubblefield family may have lived near all of the three towns at one time or another. It is possible they were living in, or near, Osceola when Sally was born.

One of the more common family stories is Robert died before his fiftieth birthday. [Stephen Stubblefield photographed Robert's headstone on October 22, 1994. His headstone is inscribed "Born Nov 25 1837, Died Aug 12, 1886, age 48 y 8 m 12d"]. According to Versie, Robert suffered a heart attack and died while sitting on his front porch eating an apple.

George Stubblefield, who was only 16 at the time, became the head of household as the eldest son. George was to be known as a strong disciplinarian, a believer in hard work, with a high disregard for tomfoolery. He was apparently very strict in the performance of his inherited "head of household" duties and eventually caused his sister, Barbara, to run away from home and marry John Stallings from Gibsonville, North Carolina. They were apparently married sometime before the 1900 census. The Stallings family information, except for the immediate children's names, has not yet been researched.

The 1900 census lists:
Eliza, widowed, as head of household, with daughters
[Mary] Elizabeth, age 32, and
Julia, age 25, and sons
George, age 30, and
Curry, age 18.
Eliza is listed as the owner free and clear of the farm, which tends to support the belief Robert owned the farm.

George was already separated at that time from his first wife, Cora Foster, who had returned to her father's farm, also in Alamance county. George's brother, John, is listed in the 1900 census on an adjacent farm with his wife, Betty Tickle, and his only son at the time, Early.
The family history of John Anderson Stubblefield and Betty Tickle is being researched and we anxiously await it being included in the family records [as of 1995]. Joanne "Jodie" Stubblefield Mason has provided considerable information on the ancestry chart that has already been incorporated into the current family tree.

Eliza Jane died on January 19, 1904, at the age of sixty, followed seven days later by her youngest son, Curry, on January 26, 1904. Apparently, both died in Greensboro in Guilford County. Although the actual records have yet to be uncovered, Curry is known to have died of consumption, today called pulmonary tuberculosis. He died at the age of twenty three. It is not known if Eliza Jane succumbed to the same disease. Mary Elizabeth, the oldest daughter, had died two years earlier on July 28, 1902, at the age of thirty five. They are buried with their mother and father, Eliza Jane and Robert, in the Stony Creek Presbyterian Church cemetery.

---
Photos:
US New York at Aiken's Landing, Virginia, for prisoner exchange - US National Archives
Robert Stubblefield's Headstone, Stony Creek, N.C.- G. Mindling
Eliza Stubblefield's Headstone, Stony Creek, N.C.- G. Mindling

---

Family members wishing access to the GED Descendant's Listing should click on : Descendants


---