Sembach AB
Hahn AB
Bitburg AB
Kadena AB
Osan AB
Tainan AB
Lowry AFB
Wheelus AB
Orlando AFB
Camp Happiness
---
Missile History I
Missile History II
Missile History III
The MM-1
Collectibles
Home Page
A Mace "B" Hard Site
Underground

Ever Been Down?
Take a trip Underground to the LCC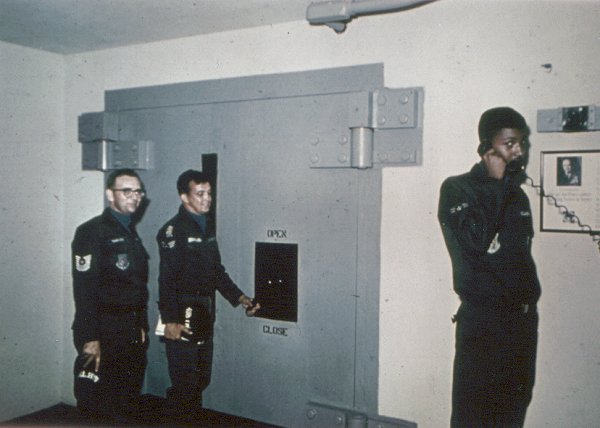 Let us In , Will You?

After gaining access to the site, which is a test in itself, and finally getting to the Personnel Access door, another phone , with another set of codes, will get you into the security chamber...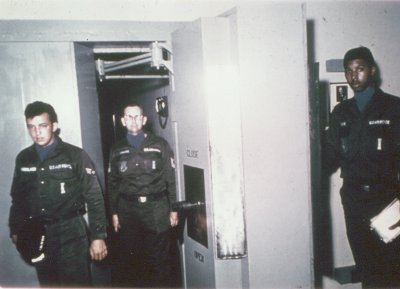 ...and another phone call with another code will get you out of the security chamber and into the underground Launch Control and Systems Center.

"Members of the original squadron would remember those box lunches. They were okay for the bomber crews but not us. We got tired of a sandwiches and a piece of fruit and lobbied for hot food. We finally got microwave units in all sites and thus was born the era of the TV dinners, Better? Well, at least the food would be hot."
"How about getting trapped in the "inner sanctum" when pass words were misunderstood?"
John Bordne (jcbordne@hotmail.com)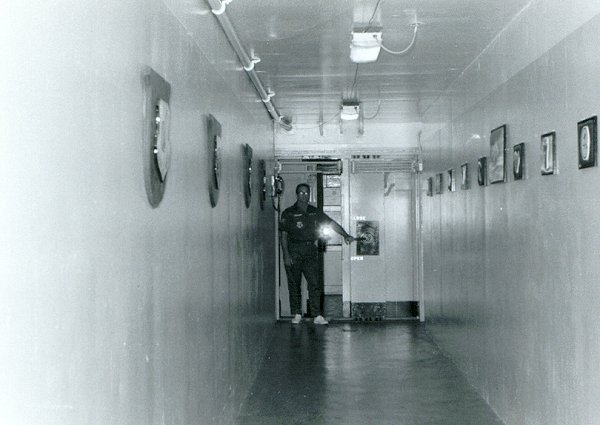 Crew 3, Site 1, Crew Chief Dennis Cralley welcomes vistors to the LCC.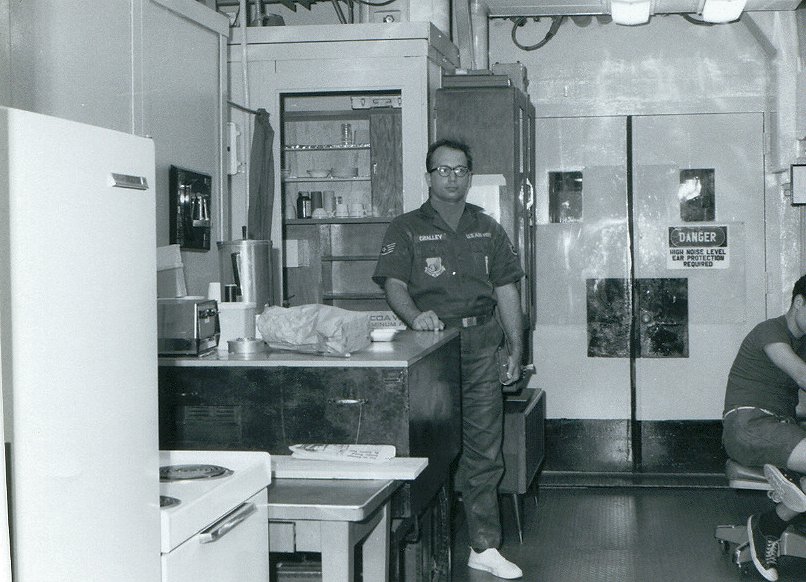 In the Crew Ready Room.

Photos coutesy of Dennis Cralley, Sr.(dcralleysr@cox.net)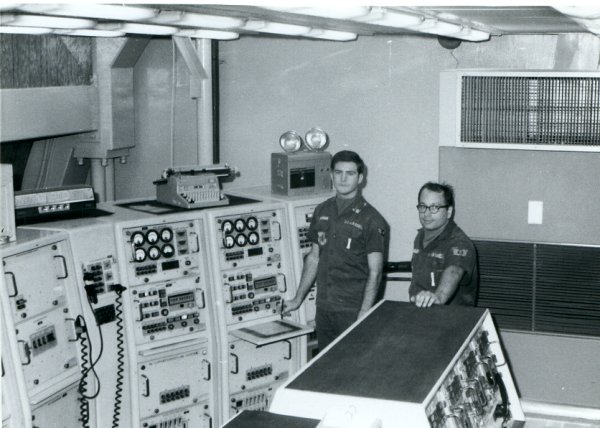 In the Launch Control Center (LCC). Two of the four Guidance Consoles are visible.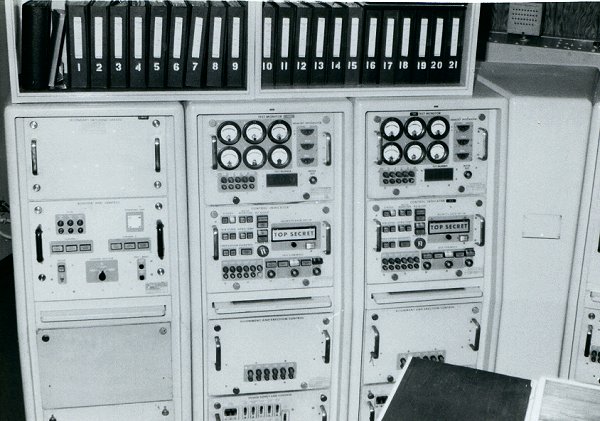 The other two of the four Guidance Consoles in the LCC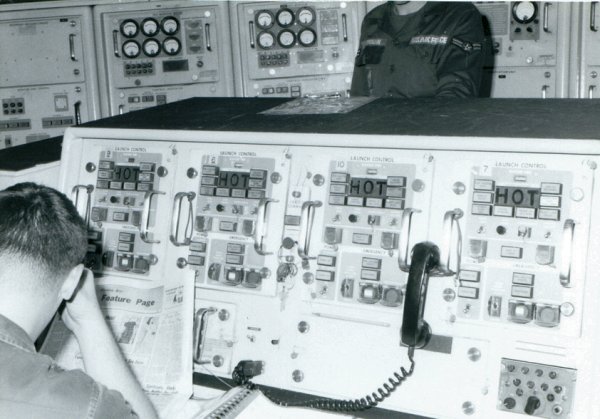 Launch Officer at the focal point of the Mace "B" complex: the Launch Control Console.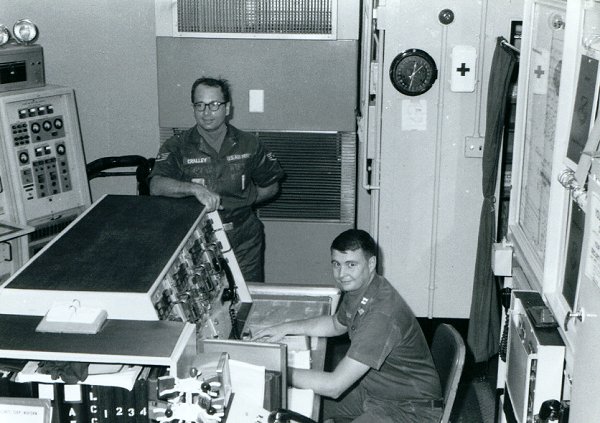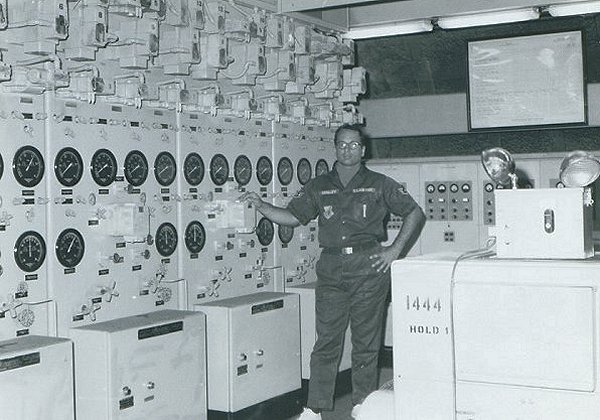 In Front of the main Power Control Console in the Power Center.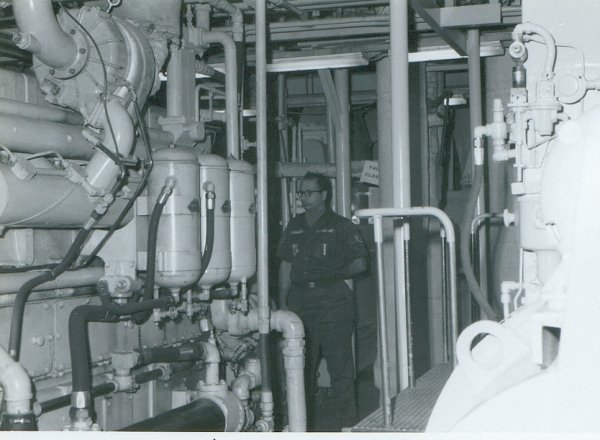 Crew Chief Cralley between two of the three 650 KVA Chicago Newmatic Diesel generators.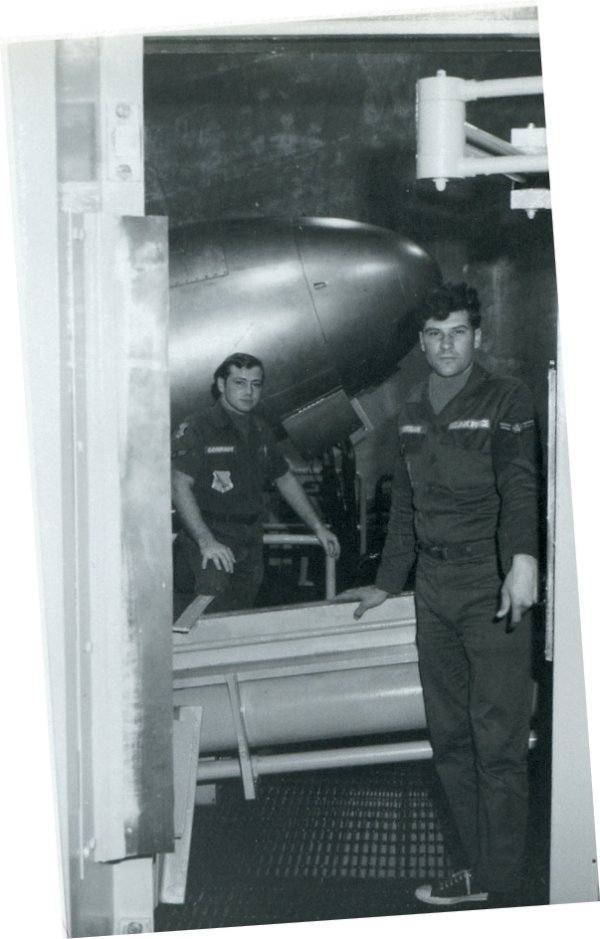 A2C Gormady and A2C Morgan in the missile launch bay.

"Talk about the heat in the bays! We did not need the tape "sweating to the oldies" back then to stay trim. The heat was so bad that several of the crews joined forces to see if we could get the bay exposure time down from 1 ¾ to 2 hours for recycling a missile."
"We all worked on it for weeks and got the recycle time down from approximately 1 ½ hours to around 40 minutes. Martin reps had to verify the "unbelievable" event when we were ready for their blessing. They still did not believe it could be done even when they supervised a recycle. We spread the news verbally at the barracks during pool games and card games and soon all crews were using the "technique". As I recall crews #1 thru #5 did most of the experimenting with the different techniques to solidify a final version of the count down."
John Bordne (jcbordne@hotmail.com)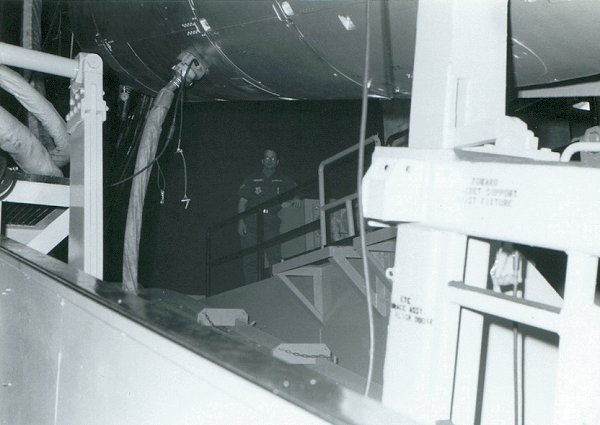 Locked and Loaded. 600B status. Now wait... and wait... and wait...

The torsion bar suspension system is visible on the left side of the launcher.

Photos by Dennis Cralley, Sr.(dcralleysr@cox.net)