"Bob, George, I finished your book 2 days after I received it. Couldn't put it down. It was incredible reading and incredibly detailed information."
Kent Washburn (KWASH55@aol.com) Mace B, Kadena, Okinawa

---
"George and Bob. I want you both to know how much I enjoyed reading and how much I admire and appreciate what you have accomplished in developing and publishing "The Pioneers". It is truly an outstanding piece of work, reflecting the time and effort required to produce it, but is also a formidable contribution to our military history. I mentioned in some earlier correspondence that I was a little disappointed in the relatively small amount of information regarding the Operating Location/Guidance Sites but you largely made up for it with this magnificent book."
Dale Lake (daleflake@yahoo.com) 601st Tactical Control Squadron, 38th TMW, Hamm, Germany

---
"I just finished your book, The Pioneers, et al. Please accept my "job well done!" Not only is it informative, but it's very readable. I'd also like to complement you on how well you footnoted it. You have shown that a scholarly work can be both instructive and enjoyable."
Michael Roof (lavinaschnur@hotmail.com) SGM USA (Ret.)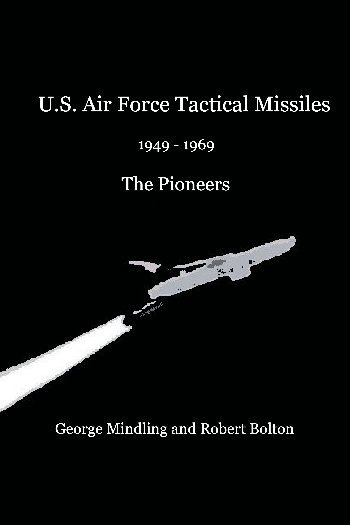 ISBN 978-0-557-00029-6

---
"Very good work with great detail."
Col. Charlie Simpson, USAF, Retired
Executive Director
Association of Air Force Missileers


---
"George, the book arrived on Tuesday while I was off to France. Of course, I quickly read the chapter about ´Germany's quiet step into the realm of nuclear armament.´ You know, this is still a widely ignored fact over here...
...For me it is fascinating to see what the picture really was in the 1950s and 1960s as opposed to what the official communication of the time wanted people to believe. A fascinating book shedding some light on the early days of tactical nuclear missiles as well as the political background that even today is still largely hidden behind the propaganda of the time. Can´t wait to read the rest of it."
Burkhard Domke
Harsefeld, Germany

---
Available Now!, Click Here to Order
"U.S. Tactical Missiles 1949-1969 The Pioneers"
"I have your excellent book on USAF tactical missiles. I actually witnessed the decommissioning of the Maces at Wüscheim back in 1966."
Paul Offen
Talitha, Tye Common Road
Billericay
Essex CM12 9PX
UK

---
"I just wanted to drop you a line and tell you how much I enjoyed the book that you and Bob wrote. The history was of particluar interest to me and my brother who was a history Professor at the University of Wisconsin. He also thought the book was well written, and he now knows what his little brother, (me), did while in Germany for three years."
George Joseph Snyder (gjsnyder@lanset.com)
71st TMS, Steinborn, Germany
---
"...by the way, I read your book, it was great, thanks for writing it."
Hack Hunton (hack@sstelco.com) Mace B, Kadena, Okinawa