Sembach Air Base
Hahn Air Base
Bitburg Air Base
---
Kadena Air Base
Lowry Air Force Base
Orlando Air Force Base
---
Missile History I
Missile History II
Missile History III
The MM-1
Collectibles
Home Page
A Personal Scrapbook
a Mace Tour of Duty
1961 - 1969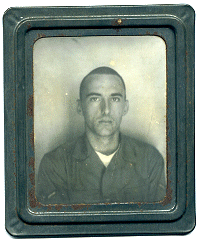 December 3, 1960, Lackland AFB, Texas, Basic Training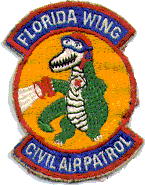 I enlisted as an Airman 3rd Class as I had received a Certificate of Proficiency from the Civil Air Patrol Cadet program.

USAF Basic Training Graduation 8th of January, Flight 1495, 3703rd Basic Training Squadron, Lackland Air Force Base, Texas, then by train via Dallas, to Lowry AFB, Colorado (3436 PATS, then the 3421st School Squadron) for electronics and system school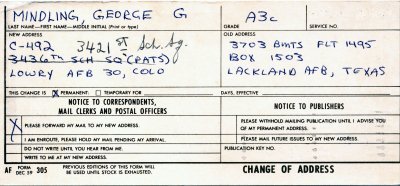 | | |
| --- | --- |
| | |
Road Guards Out!!!

1961 Lowry AFB (Lowry 2) photos by Clifford (CW) Lewis, "B" Bird TEMS, (cwlewis@prodigy.net)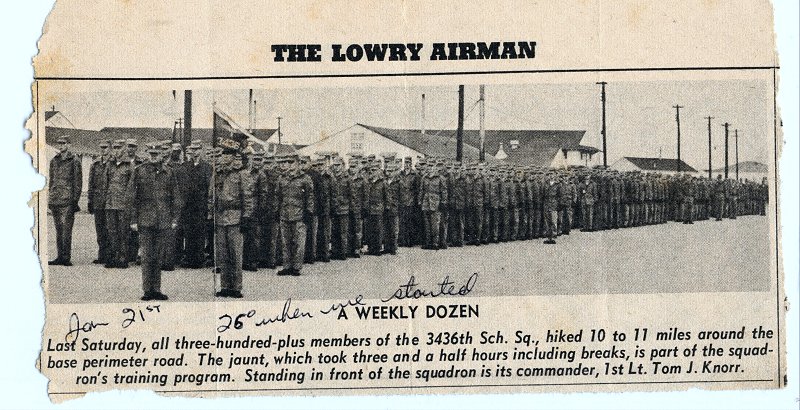 The joys of waiting for your class to start: PATS!
In the 50's and early 60's, daily KP (2:30 am til they let you go...) was the daily duty.
Everyone in PATS (Personnel Awaiting Training Squadron) paid their dues!
Pity the poor airmen who had a school that only started once every four months!
Welcome to the world of "Aerospace Technicians!"
Copy of the January, 1961 "Lowry Airman" courtesy of George Mindling (myakka@embarqmail.com)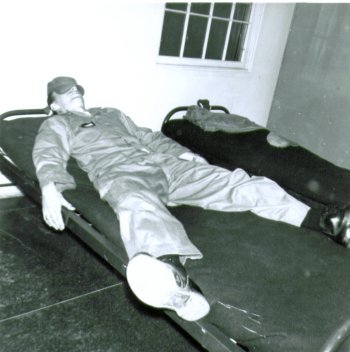 KP'd out. The author uses his free time wisely.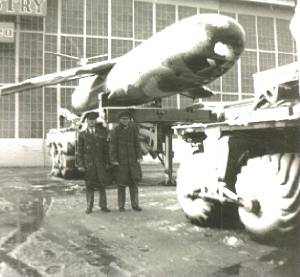 George Mindling, Flight Controls, and Jim Hawkins, MEMS, May 13, 1961, at Lowry AFB, Colorado, in front of a TM-76A school training missile.

The photo was taken during a snow storm on Sunday, Mother's Day. The day before had crowds in short sleeved shirts as they attended Armed Forces Day with sunshine and 65 degree temperature!
>

Barracks locker and bunk with laundry bag, 3421st School Squadron, Lowry AFB, 1961.
Home for the last six months
Flight Controls Class - June 30, 1961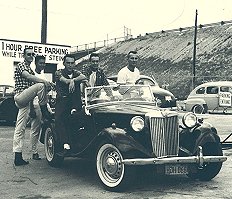 From Left: Clifford Perry, Ronald Kobayashi, George Mindling, Channing Reuschenburg, Mike Goshay

Leonard Estrada took the photo at Pueblo, Colorado, enroute from Lowry AFB to the TAC Missile School at Orlando. The MG TD is Leonards, while Mike Goshay's Mercury sits in the background.
Also not pictured are: Jim Henry, Ralph Timko, Richard Clark and Melvin Holland



Orlando AFB and Combat Crew Training
George Mindling, Jan Narushof, and Bob Harkins, Jr, take a three day break at
George's parent's home in Miami, Labor Day, 1961







Graduation, November 27, 1961. My entire first year in the Air Force was spent in school!

Now on to Kadena, Okinawa.... Ooops! Redlined orders!

Head for Bitburg instead! Your hold baggage with all your winter uniforms will catch up in three or four months! Didn't they tell you to keep out one set of blues to travel in? If you didn't, you'll enjoy McGuire AFB, New Jersey, in January in your short sleeve 505's and a raincoat!

| | | |
| --- | --- | --- |
| From McGuire to Rhein Main..by KC-135 | | From Rhein Main to Bitburg by school bus |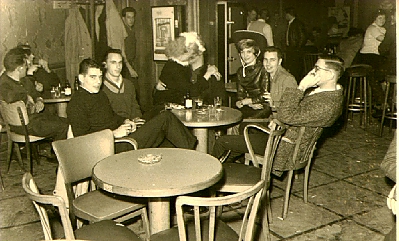 Are we having fun yet? The Roma Bar, Bitburg, February 1962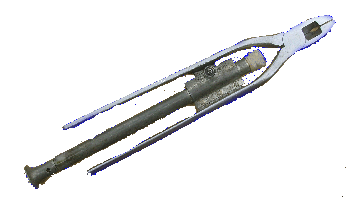 ...one of the tools of the trade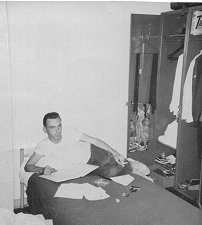 February 1962, home for the next 3 years.

Most of the rooms or bays were stacked with bunk beds as the Matador troops slowly rotated back to the ZI (USA), The four story buildings were still barracks, not the dorms the stateside Air Force people had. By the end of 1962, most of the rooms were down to 4 people per room, the standard for the tour of duty.

Living with Dan Pond, Jim Larimer, and Bill Krebs (all GSC) was an experience in itself.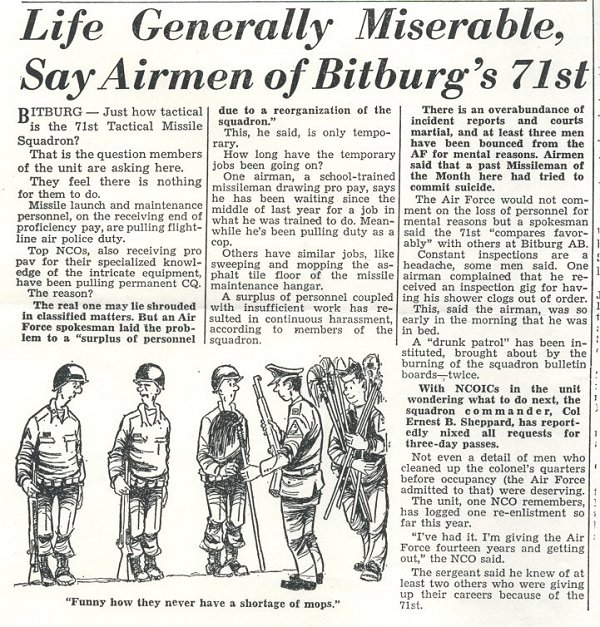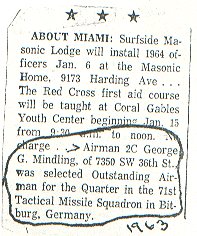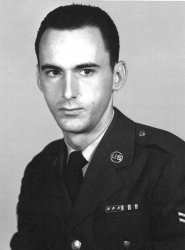 Life Changing Event...

Gee, George, I kind of remember you, but what ever happened to that cute German girl you used to date?

The author's Volkswagen 1500-S, bought new in Trier, Germany with U.S. export equipment for $1710 in June 1964. Picked up and driven off the P&O dock in Miami in December 1965 after being shipped from Antwerp. The 1500-S was never sold in the U.S.


More to Come...
| | |
| --- | --- |
| In the Triumph GT-6 at the start line of the 1968 ADAC Wolsfeld Hill Climb, Eifel Motor Sport Club. | The author at the ADAC Veldenz Hill Climb, Mosel Valley, Germany, 1968, in his Triumph GT-6. (2nd Tour 1968-1969) |

About the Author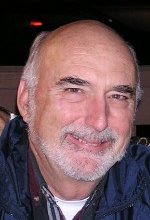 Raised in Miami, Florida, George Mindling joined the U.S. Air Force after graduating from High School. He enlisted in December 1960 and served through an extension to his second tour of duty, took his Honorable Discharge in May 1969 as a S/Sgt (E-5). George holds a Master Missileman Badge, having served his entire Air Force career in the Mace Tactical Missile program. He was originally trained on Flight Controls/Safety & Arming, and was on the 1962 IC&V (Installation, Checkout and Verification) team at Bitburg for the installation of the TM-76B mace. He later cross-trained to Guidance System Checkout while serving as school support at Lowry, and was reassigned again to Bitburg, serving until the deactivation of the Mace "B" April 30th, 1969. George served a total of 5 1/2 years at Bitburg with the 585th MMS, Det 3, 38 MMS, the 587th MMS, and the 71st TMS..
George joined IBM at the Miami field engineering office in June 1969 as a DR customer engineer, becoming an IBM Region Specialist on 8100 systems and Network Problem Determination. George fully retired December 1997 as an Advisory Systems Engineer working as a Project Manager. George was active with the Miami Yacht Club as a volunteer instructor with their Youth Sailing Program for most of the 80's, and served on the club's board of Governors 1985 - 1986.
George formed his own successful consulting company, Customized Services Management, specializing in Business Impact Analysis, a component of disaster recovery and emergency management planning. Retiring to Port Charlotte, Florida, George, a member of Punta Gorda Elk's Lodge 2606, has been active with Community organizations, having served as Chairperson for his local homeowners Advisory Board and writing a bi-weekly business column for the Sun-Herald newspaper.
His first book, U.S. Air Force Tactical Missiles 1949-1969 The Pioneers, co-authored with Robert Bolton, was published in 2008, and his first humorous camping book, Sleeps Two>, was published in 2010.
George is a member of the TAC Missileers Association. Among his hobbies are video creation and editing, writing, kayaking and fishing, and maintaining the 38th TMW website.

This page is in no way sponsored or endorsed by the United States Air Force.
Opinions and views expressed are those of the author and not necessarily those of the Department of the Air Force.

Web Page Design and Development by
George Mindling - Port Charlotte, Florida

�George Mindling - 2003-2006 All Rights Reserved
---