Sembach Air Base
Hahn Air Base
Bitburg Air Base
Kadena AB
Osan AB
Tainan AB
Lowry AFB
Wheelus AB
Orlando AFB
Camp Happiness
---
Missile History I
Missile History II
Missile History III
The MM-1
Collectibles
Home Page
Bitburg Air Base
After "Separation" from Active Duty

...Before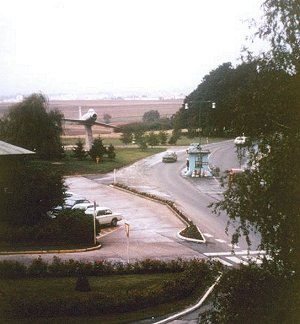 "Hi, I just stumbled across your web page. What a trip!

Couldn't resist sending you the following taken in 1974 from my 4th floor corner room in the AMS barracks of the entrance from housing."

Chris Edmonds
SSGT 36th AMS 1974-75

...And the Way It Was in 2000
Bitburg Air Base Photographs by Roland Fogt (A1C SPOL-D 1985) (Rf2401@aol.com)

The Main Gate
To the Housing Area.

What was farmland between the base and the housing area is now an industrial park.
| | |
| --- | --- |
| The Base Library - The marble Missile Monument has been removed. The Air Force Missileers Association, even with the help of HQ, USAFE, could not determine what happened to it. | |
| | |
| --- | --- |
| | The Rec Center (formerly known as the Service Club) and snack bar |
| | |
| --- | --- |
| The former Air Police station is now a garden/landscape service. | |
| | |
| --- | --- |
| | The APO (Post Office) and the Clothing Store, just across the parking lot from the base Theater, is now an electrical contractor's business. |
| | |
| --- | --- |
| The Base Theater - Site of many, many Commander's Calls, is now a church. | |
| | |
| --- | --- |
| | The "little" BX and barber shop, (the big one was in the housing area). |
| | |
| --- | --- |
| The Headquarters Building | |
The biggest shock of all!
The base chapel is now a dance bar!!!
The Mess Hall is now a topless bar.
Why didn't we think of that?



| | |
| --- | --- |
| | The NCO Club is now a sport training/seminar venue. |
The Officer's Club

The Open Mess looking toward the BOQ.
The building is now a hotel.
The Main Gate - Trier Highway
The former German Employment office on the left.

This is the last view most of us had of Bitburg Air Base, except we saw the exit side of the guard shack.
Hello Everyone,
My wife and I just returned from our honeymoon in Germany.
We spent one night at Bitburg Air Base - the officers club has been transformed into a hotel w/ a covered walkway to the old TLQ bldg. The NCO club is now a sport training/seminar venue. The chowhall is now a topless bar ( ! ) and to add insult to injury the base chapel is a dance bar! The big hangar next to the tower is an indoor go-kart track. The old Air Police station is a garden/landscape business. The base theater is now a church. The old APO is a elec. contracter business. Housing area still being used by Spang. AB. What was once farmland along the base-housing access road now has a industrial park. Dorms are mostly vacant and in bad shape.
Only the Bitburger Pils has remained the same !

Roland Fogt (Sun Oct 22 07:01:10 2000)


This page is in no way sponsored or endorsed by the United States Air Force.
Opinions and views expressed are those of the author and not necessarily those of the Department of the Air Force.

Web Page Design and Development by
George Mindling - Port Charlotte, Florida

�George Mindling - 2003-2006 All Rights Reserved
---