Sembach Air Base
Hahn Air Base
Bitburg AB
Kadena AB
Osan AB
Tainan AB
Lowry AFB
Wheelus AB
Orlando AFB
Camp Happiness
---
Missile History I
Missile History II
Missile History III
The MM-1
Collectibles
Home Page
Metro Tango Area

What's in a Name?
The question about the origin of the phonetic Metro Tango name
generated the following interesting exchange of site history.
Hi,

Found your 38 TMW pages thru a NorthernLight search on term "Metro Tango". I worked at MT 79-82 and 87-92 when it was used by the 6911 Electronic Security Squadron. While we were able to recover some information about the site's history, but one fact that eluded us was the origin or derivation of the MT name. Many theories were brought up, the most plausible was that Metro and Tango were the phonetic alphabet terms from the Able Baker Charlie ... era, and that the M T was for Motor Transport. That still seems a bit weak, but is supported by the vehicle maintenance building(s) that were on the site.

Can you, or any of your comrades be of assistance?
Thanks,

Val Manes, MSgt USAF (Ret)


---
Best of my recollection, the name Metro Tango was derived from the letters for Missile Training which was the mission of that area. Old Tm-61s were converted to simulate TM76s and used to train us launch crew members to react to simulated malfunctions and other emergencies.

Dave Johnston (fordman@eagnet.com)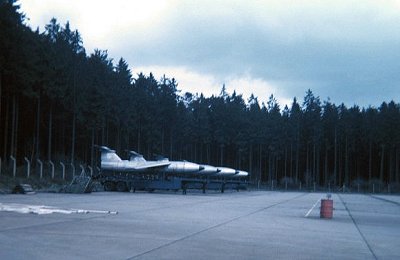 ---
Going back to 1954. When we (69th) arrived at Hahn in September of 1954, none of the off-base sites had been constructed, We used two Butler Buildings on base. The first operational off base area was Metro Tango. After you turned off the main highway the Mess Hall and Motor Pool were on the left. A bit farther down on the right was Flight "A" Assembly Area and if you traveled farther down and I think you had to make a right, you'd come to the Storage Area where the Missile Components were kept in their shipping containers until they were needed. The area was called Metro Tango from the start, don't remember the reasoning for the name. "B" Flight came later and was located off the road to Zell. This is my recollection.
Andy Hernandez (andyhernandez@webtv.net)


---
Andy's descriptions is also how I remember the area in 1960-61. We also called the Storage Area a part of Metro Tango along with Mess Hall and Motor Pool and the Flight "A" Assembly Area. When I arrived in Nov. 1960 a launch site had been constructed on the left just off this road after taking a right off the Koblenz Hwy, but was not active, just pad, block house, guard house and fence.
George B. "Butch" Miller (ButchMil@CityNet.Net)
---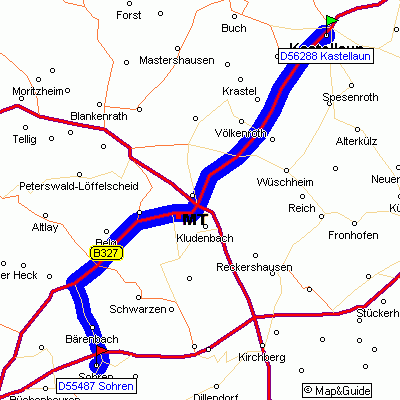 The photo on the web page referred to by George is the Metro Tango site. When I was stationed at Hahn 1964 - 1966 I had worked at site 4 which was just down the road from Metro Tango. We refueled our vehicles at MT and occasionally ate at the chow hall that was still in operation there.
While deploying the Ground Launched Cruise Missile System (GLCM) at Hahn during the 1980s, I drove past the old Metro Tango area daily, and it looked as the photo shows. Also for those of you interested, during the 1980s, old Site 4 was still being used by the German Army for storage of vehicles and supplies. They left the Shelter covers and the double security fences in place and had "Guard Geese" patrolling between the fences for the entire perimeter. If you just drove by the site, the Geese would not pay attention, but if you stopped, they would congregate at the fence and watch you. If you opened the door of your vehicle, they would start such a racket that it could be heard a half mile away - very effective.
Also for those not aware, we built the GLCM site (Wuescheim) on the old MACE Site which was next to the Army NIKE site. (Can someone help me on the MACE site number for this site, was it 5 or 6 ?) We used the NIKE site as temporary facilities during the early GLCM construction period.

Dave Maas (DrMaas@aol.com)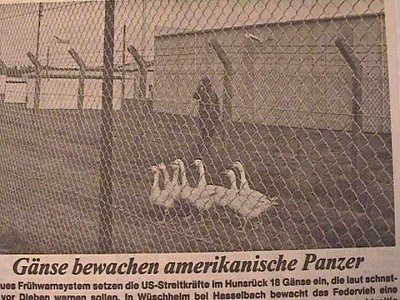 Metro Tango Photos courtesy of Dave Maas (DrMaas@aol.com)


U.S. Air Force Tactical Missiles
By the Editors of this Website!
Beyond the Web Page... The only book devoted exclusively to the Matador and Mace Tactical Missiles. The book reveals the story from the initial idea that became the first U.S. pilotless bomber, through the politically troubled development of the ever evolving deployment methods of the Matador and Mace Tactical Missiles. It covers the Units, Groups, Squadrons and Wing that fielded the missiles. From the United States test sites, Europe, Asia and North Africa nothing is omitted. All phases of the application of these two missiles by the U.S. Air Force (and West German Luftwaffe) are included, from the first tentative launches of the XSSM-A-1 Matador in January 1949, to the tense alert duty of the Cuban Missile Crisis, and the final launch of a MQM13A in May of 1977. The maintenance, logistics and launch, the men, equipment and tactics are all there.
"Bob, George, I finished your book 2 days after I received it. Couldn't put it down. It was incredible reading and incredibly detailed information."

Kent Washburn (KWASH55@aol.com) Mace B, Kadena, Okinawa


---

"George and Bob. I want you both to know how much I enjoyed reading and how much I admire and appreciate what you have accomplished in developing and publishing "The Pioneers". It is truly an outstanding piece of work, reflecting the time and effort required to produce it, but is also a formidable contribution to our military history. I mentioned in some earlier correspondence that I was a little disappointed in the relatively small amount of information regarding the Operating Location/Guidance Sites but you largely made up for it with this magnificent book."

Dale Lake (daleflake@yahoo.com) 601st Tactical Control Squadron, 38th TMW, Hamm, Germany


---

"I just finished your book, The Pioneers, et al. Please accept my "job well done!" Not only is it informative, but it's very readable. I'd also like to complement you on how well you footnoted it. You have shown that a scholarly work can be both instructive and enjoyable."

Michael Roof (lavinaschnur@hotmail.com) SGM USA (Ret.)


ISBN 978-0-557-00029-6


---

"Very good work with great detail."

Col. Charlie Simpson, USAF, Retired
Executive Director
Association of Air Force Missileers



---




"George, the book arrived on Tuesday while I was off to France. Of course, I quickly read the chapter about ´Germany's quiet step into the realm of nuclear armament.´ You know, this is still a widely ignored fact over here...
...For me it is fascinating to see what the picture really was in the 1950s and 1960s as opposed to what the official communication of the time wanted people to believe. A fascinating book shedding some light on the early days of tactical nuclear missiles as well as the political background that even today is still largely hidden behind the propaganda of the time. Can´t wait to read the rest of it."

Burkhard Domke
Harsefeld, Germany


---



Available Now!, Click Here to Order
"U.S. Tactical Missiles 1949-1969 The Pioneers"

"I have your excellent book on USAF tactical missiles. I actually witnessed the decommissioning of the Maces at Wüscheim back in 1966."

Paul Offen
Talitha, Tye Common Road
Billericay
Essex CM12 9PX
UK


---

"I just wanted to drop you a line and tell you how much I enjoyed the book that you and Bob wrote. The history was of particluar interest to me and my brother who was a history Professor at the University of Wisconsin. He also thought the book was well written, and he now knows what his little brother, (me), did while in Germany for three years."

George Joseph Snyder (gjsnyder@lanset.com)
71st TMS, Steinborn, Germany

---

"...by the way, I read your book, it was great, thanks for writing it."

Hack Hunton (hack@sstelco.com) Mace B, Kadena, Okinawa
US Air Force Tactical Missiles ©2008 - George Mindling and Robert Bolton
Inspired by the 38th TMW Website, George Mindling and Robert Bolton co-authored US Air Force Tactical Missiles 1949 - 1969: The Pioneers ©2008, the story of America's first operational missiles, from the Matador to the Mace, from Taiwan, Korea, and Okinawa to Germany, including Lowry, Orlando, Holloman, Santa Rosa Island at Eglin, and even Camp Happiness!
Dieses Buch ist ein Muss für alle, die im Rahmen ihres Dienstes bei der U.S. Air Force mit den frühen Marschflugkörpern zu tun hatten, aber auch für deutsche Militärarchäologen, die in der Eifel, im Hunsrück oder im Pfälzer Wald schon über rätselhafte Hinterlassenschaften gestolpert sind. Nach mehr als 40 Jahren wird endlich eine Fülle von Fakten, Informationen und Geschichten zu den zwischen 1954 und 1969 in Deutschland stationierten, mit Automwaffen ausgerüsteten amerikanischen Matador und Mace auf den Tisch gelegt. Ausführlich und lebendig erzählen George Mindling und Bob Bolton von den jungen Missilemen, die im März 1954 erstmals in Bitburg ankamen - noch ganz grün im Gesicht, weil auf dem Atlantik schwerer Sturm geherrscht hatte. Von den T-33-Flugzeugen, die aus Übungsgründen so taten, als wären sie Matador-Flugkörper, über die Startstellungen hinweg in Richtung deutsch-deutsche Grenze donnerten und sich von der Gegenseite nur nicht erwischen lassen durften. Oder von der Kuba-Krise, als die US Air Force Europe auf DEFCON 3 ging und an die Mechaniker in Bitburg Munition für ihre Karabiner ausgegeben wurde.
Augenzeugen sagen dazu: "Wir hätten die Vögel auf jeden Fall innerhalb von 15 Minuten in der Luft haben müssen!" Es ist lebendige Militärgeschichte, die nun nicht der Vergessenheit anheimfällt, sondern jedermann zugänglich wird - auch für die ortsansässige Bevölkerung, die heute endlich erfährt, was sich damals in ihrer Nachbarschaft zugetragen hat. Den beiden Autoren gebührt der Dank.
Klaus Stark (klaus_stark@t-online.de)
Berlin, Germany


This page is in no way sponsored or endorsed by the United States Air Force.
Opinions and views expressed are those of the author and not necessarily those of the Department of the Air Force.

Web Page Design and Development by
George Mindling - Port Charlotte, Florida

©George Mindling - 2003-2006 All Rights Reserved
---